Man charged with trying to smuggle smoking incense into Liberty County Jail
by Teresa Eubanks, Journal Editor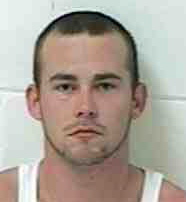 A Hosford man who brought toiletry items for his brother at the Liberty County Jail found himself on the other side of the bars after a bag of synthetic marijuana was discovered hidden inside an Old Spice Body Wash bottle.
Kalen Burke, 21, arrived at the jail in Bristol around 7:35 p.m. last Wednesday carrying a plastic bag from the Dollar Store. A correctional officer searched the bag and found a pair of socks, a stick of Old Spice deodorant and a body wash bottle that held a package of Down 2 Earth Climaxxx incense.
Burke was searched and a second package of the incense was found in his front pocket, along with a receipt showing both packs of incense were purchased from the Busy Boy convenience store in Hosford for $20.09.
Burke was charged with introduction of contraband into a correctional facility.
While not illegal to sell, synthetic marijuana - also called herbal incense - has caused some users to become ill.
Last May, a Bristol mother was charged with child abuse after smoking "Mojo" with her nine-year-daughter. The child got sick, had a seizure and stopped breathing, according to deputies at the scene.
The Liberty County Sheriff's Office has since sent letters to store owners asking them not to sell similar products which have been banned in other states.
Burke was later released on $5,000 bond.