Leon County Work Camp escapee caught at ministry center by tracking dog Monday
An inmate who escaped from a Leon County Work Release Camp was arrested in Blountstown Monday night with the aid of the canine tracking team from Calhoun Correctional Institution.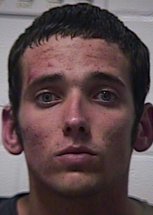 Coty Anthony Turner, 20, made his way from Tallahassee to Blountstown when he called a former neighbor in Daleville, AL to ask for a ride. The neighbor, who learned he had stopped at the Airport Motel west of town, then contacted the sheriff's office.
"We put unmarked units out on the road and called out the canine team," said Major Roman Wood. "The fog was setting in and the moist conditions made it ideal for tracking."
Tracking dog "Deuce" picked up the scent at the motel and followed it west along SR 20 before taking the search team across the road to the Calhoun-Liberty Ministry Center.
The dog led officers to the north side of the building near some large storage bins and trailers.
Officers didn't see Turner. "The bloodhound indicated he was there and wouldn't leave the area," said Wood. "That's when they started climbing around on top of the trailers and found him."
Turner was handcuffed and transported to the Calhoun County Jail around 10:10 p.m., about 40 minutes after the initial call.