Hill announces plans to seek the Dist. 7 seat
Liberty County Clerk of Court Robert Hill says he will seek the District 7 seat in the Florida House of Representatives after redistricting left Liberty County without an incumbent.
Hill, who is completing his third term as Clerk, said he had already planned to retire when he became interested in the job after learning that redistricting will place Marti Coley in District 5.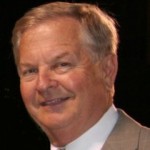 "I feel I understand the needs of the counties that are in District 7," said Hill. "My background as an educator, Clerk of Court, and county administrator provides me with a broad and unique understanding of the issues important to rural counties."
Hill was a math teacher and a coach for 25 years, then served four years as Liberty County School Superintendent and was re-elected as Clerk of Court three times.
According to Ryan Duffy, spokesman for the Florida House Redistricting Committee, District 5 includes the counties of Jackson, Washington, Walton and Holmes along with a section of Bay County. He said District 7 is now made up of Calhoun, Liberty, Gulf, Franklin, Wakulla, Jefferson, Madison, Taylor and Lafayette counties as well as a small section of the western section of Leon County.