Sanctuary founder Betsy Knight dies at 73, leaving behind a legacy of love for wildlife
by Teresa Eubanks, Journal Editor
"Take it to Betsy."
That's what was said when injured and abandoned animals were found in this part of the Florida Panhandle for years and that's how many of us first met Betsy Knight.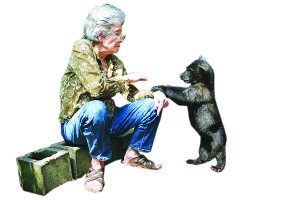 Baby birds who had taken a tumble out of their nest, orphaned fawns, a descented skunk that had once been someone's pet and displaced otters got a second chance when they were brought to her. There were owls, hawks, eagles, wolves, coyotes, a bobcat and even vultures.
Her goal was always to help them find their way back into the wild. Many of those who couldn't return to the woods often became part of Knight's educational program, visiting schools, malls and public events. Others with injuries that would limit their chances for survival stayed on at the Big Bend Wildlife Sanctuary she founded in 1988, where a rotating group of volunteers took turns under her tutelage learning to work with wildlife.
Last week, after dealing with several problems including her recent hospitalization for pneumonia, the family learned she had an aggressive form of cancer. Betsy died Feb. 17.
The animals have lost a friend but Betsy left behind a legacy: The volunteers she taught to care for injured animals and the students who learned to appreciate wildlife through their contact with her.