Remembering sanctuary founder Betsy Knight
by Teresa Eubanks, Journal Editor
"It was just work, work, work all the time but I enjoyed it. I'm glad I did it," said Babs Moran of Bristol about her experiences volunteering with Betsy Knight. Moran and her husband, Jack, helped establish Big Bend Wildlife Sanctuary in 1988.
"We didn't make a dime," she said. Although the plan was to operate as a non-profit group, she jokes, "You could say we were a loss-profit organization."
Their biggest asset was the community. When there was a need, they went looking for help. When food ran low, local farmers and landowners were asked for their leftovers. "Willard Smith let us come and pick all the grapes we could get and we pulled vines out of the trees for the deer to eat," Moran said. Other times, a Marianna grocery store allowed them to collect discarded fruit from their bins before the garbage was picked up.
She recalls when a buzzard egg that came into their possession hatched. They had hoped to raise it and place it with other buzzards when it was big enough. Unfortunately, the creature imprinted on humans. "It didn't know it was a buzzard," Moran said.
One day several buzzards descended on a deer carcass at the sanctuary. The women realized this was their chance to put the little guy with his own kind. "Betsy brought him over. He sat on a post and watched the other buzzards tear at the deer. Then he turned around and walked away," she said. He flew up and settled atop a light post. Betsy called a friend and a bucket truck was brought in to help her retrieve the young buzzard. "You just had to hug him and bring him down," said Moran. "There's no way that vulture was going to join the others and take off with them."
Walking through the cages - first set up at Betsy's home in Blountstown, and later re-established at a new property in the Shelton's Corner area - often gave visitors their first close-up experience with animals they had only seen at a distance. Inside, Betsy harbored stacks of crates filled with creatures that needed more care. Her family - former husband Phillip and their four children - had to work around the ever-growing animal population that filled their home and their yard.
"It was nice when she had volunteers she could rely on, but if they weren't there, she did it anyway," said Moran. "She was absolutely devoted."
• • • • •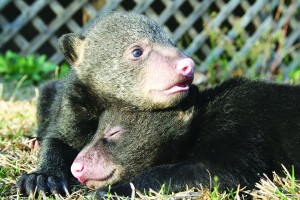 Betsy is perhaps best known for her work with Florida black bears and her efforts to return them to their natural environment.
She bottle fed numerous cubs until they grew up enough to forage for themselves and sparred with wildlife officials until convincing them it could be done. "Nobody said no to Betsy," said Terry Morse, "and if they did, it only made her will more powerful to make them understand why they were going to do what she had asked."
"Working with the Florida Black Bear was a unique experience," said Morse, who along with her husband, John, began volunteering with Betsy around 2007. "I helped her with the last three bears that came in."
Betsy became the state's first certified bear rehabilitation specialist and took in 45 bear cubs over the years. "She would only take bears if she could rehabilitate them and return them to the wild," said Morse. "She did not support turning the animals over to circuses or institutions where they had to live in cages," she said.
"We raised the bears with minimal contact with people," she explained. "We fed them natural diets. Betsy was the pioneer who started rehabbing and releasing bears back into the woods."
Forty-three of the black bears she cared were returned to the forest. "Only two of those couldn't survive on their own and were taken to a wildlife sanctuary in Citra, Florida," according to Morse.
• • • • •
"She was a wildlife rehabber before the permitting process ever took place," said Barbara A. Eells of St. Joe Beach, who began volunteering with Betsy in 1990 or 1991. "She said she started with a little mockingbird out of her house in Blountstown and later became incorporated as Big Bend Wildlife Sanctuary."
Eells invited Betsy to give a program at the former Highland Elementary, where she was teaching at the time. She assisted Betsy that day with the animals and realized, "I want to do this."
She and a friend, Paula Boone, eventually became certified to work with wildlife. At that time, they were required to give 1,000 hours of volunteer service before they could get permitted to work with migratory birds. Nowadays, "You can just take an online test, gets some letters of recommendation and get permitted," she laughs. But she wouldn't trade the experience for anything although her jobs included cleaning out cages and the ghastly task of preparing crickets to be fed to the smaller birds. "We had to pull off the heads, wings and legs and soak them in vitamins," she said, admitting that she apologized to them as she did it. They later learned there were other ways to prepare food for the birds and suggested a change. "Betsy was very receptive to the things we learned, too," she said.
"I appreciated the enthusiasm and the love Betsy had for wildlife," said Eells. "Through her, we learned to love wildlife in a different way than most people do. Each little soul has a personality. That was the one thing that astonished us."
She said Betsy taught her perseverance, patience and the hard truth that while you can't save everything, you can try to do your best.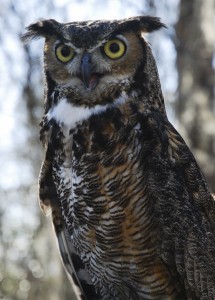 She recalls when Betsy got a special permit to keep two eagles in 1993. Olah and Agena became the centerpiece of her educational program. "Eagles are now considered protected but when Betsy started with them, they were endangered," Eells said.
After 9/11, Eells said there was a real difference in the way people reacted to the eagles. She remembers a time they set up at Nature's Gallery in St. Andrews State Park with the big birds and groups came off the buses to file through.
"The eagle was sitting there; Betsy was holding it. People came in the tent and were quiet. They just stood back and looked at that eagle, who was so majestic. It was such a moving patriotic scene. It gives me chills just to talk about it," she said.
Betsy's eagle pair was relocated to the new eagle enclosure at E.O. Wilson's Biophilia Center in Freeport. A dedication program was held last November and a plaque honoring Betsy was unveiled.
It reads: This enclosure is dedicated to Betsy Knight as it houses Olaha and Agena, a mated pair of eagles who were under her care. Betsy Knight devotes her life to rehabilitating wildlife at Big Bend Wildlife Sanctuary.
• • • • •
Betsy's first cousin and close friend, Nancy Radebaugh Keane of Orlando, recalls, "From day one, Betsy loved the woods and animals." She remembered a time she met Betsy and her son, Clay, for lunch in Tallahassee years ago. "She brought a huge album with her. I expected children's photos, but it was all her wild animals!" she said.
It was always fun to visit Betsy. "You never knew what would walk across the floor. The animals were part of her family."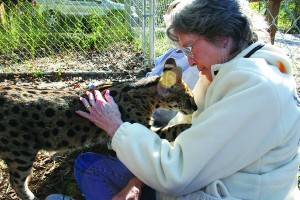 She added, "I loved her and it is hard to imagine a world without Betsy."