Two Bristol homes robbed; attempt made on another
by Teresa Eubanks, Journal Editor
Two Bristol houses were robbed and another homeowner came face-to-face with a would-be intruder peering into his window Tuesday afternoon.
Lamar Holland, 70, said he came downstairs just before 1:30 p.m., walked into his kitchen, happened to look out the window and saw a stranger jogging toward his back porch.
The suspect - described as a tall, thin, black male - jumped up on the porch and walked toward the window.
"He put his hands up to get rid of the glare to look through the breakfast nook window," said Holland. "He and I were eyeball to eyeball, about six feet apart," he said.
The man was looking off to the right before his gaze landed on Holland. "When he realized I was there, he turned tail. He didn't jog back to his vehicle, he ran," he said. "I wasn't as shocked as he was because I saw him coming."
Holland said it appeared that the man was wearing a dark knit hat and a white long-sleeved pullover. "He appeared to me to be six-footish," he said.
Once they locked eyes, the man raced back to a dark car with dark-tinted windows and left quickly. He speculated that the vehicle might have been burgundy or green, but Holland admits, "I'm color blind. I have problems with green in particular."
He called the Liberty County Sheriff's Office to report the sighting.
Holland found tennis shoe tracks on both his front porch and back porch, as well as tire tracks in the yard of his home at the corner of Spring Branch Road and CR 12 South, across the street from W.R. Tolar School.
He later learned a neighbor had seen a vehicle like the one he described driving by slowly before turning into his house.
Later that afternoon, two homes about 3/4 of a mile past the last Lake Mystic turnoff down Hwy. 12 South were burglarized.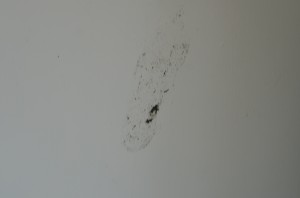 Nancy Grantham was dropping her grandchildren off at her son's home at 17058 NW CR 12 South about 3:45 when she found the house in disarray.
"The back door was open and the house was turned upside-down," said her son, Grant Grantham, 41. "We're missing some jewelry and electronics but they didn't get a whole lot," he said.
A few minutes later, his neighbor, Tina Rae Goodman, 60, arrived home. "I walked in and saw the cabinet doors open in the living room, stuff was strewn all over the floor and the lights were on in all three bedrooms," she said. "I just dropped everything, ran out the door and called 911."
Deputies were already on alert and arrived before she finished talking with the 911 dispatcher. After searching the home to be sure no one was inside, they discovered the intruder had left his footprint on the back door when he kicked it in.
"They got two handguns that I know of," Goodman said, but added that rifles were left behind. "They took my whole jewelry box," she said. The jewelry box had been a special gift when she was eight years old, sent to her from Thailand from her uncle, John Summers. It was where she kept her wedding rings and class rings, along with her late husband's rings and his watch. A drawer from the jewelry box was dropped in the yard. It held a pair of crocheted baby booties she once wore and was glad to retrieve.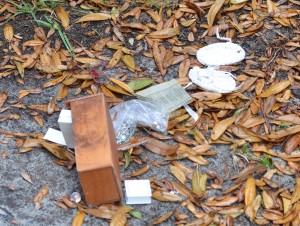 "They pulled down a jar of old buttons and emptied it out looking for money," she said. "They didn't break anything or destroy anything," she commented, noting that an antique pitcher handed down from her great-grandmother was taken off a high dresser and instead of dropping it after realizing it was empty, the intruder carefully placed it on a chair. "They were considerate thieves," she said.
At both homes, the mattresses were flipped over and drawers were pulled out and emptied on the floor.
Another resident along CR 12 South reported hearing a noise outside later that afternoon. When she went to check, she said she saw a dark green vehicle speeding away down her long driveway after her dogs began barking.
Three other break-ins were reported earlier this month in Liberty County. Calhoun County has also had at least three and other surrounding counties have reported break-ins as well as attempts.
Liberty County Sheriff Donnie Conyers said they have received descriptions of a dark green Honda Accord with dark tinted windows or a vehicle similar to it, during their investigation. The car that was at Lamar Holland's home was seen turning at the red light in Bristol and going east, the sheriff said.
"We want people to notice what's happening at their house and at their neighbors' property," Conyers said. He urges anyone who spots any unusual activity or suspicious vehicles in their neighborhood to call his office.
He said that earlier on Tuesday his office was looking into the discovery of a safe that had been shot open and abandoned at the south end of the county. He said he did not know if it was related to the recent rash of break-ins.