Hosford's Ann Marie Brown wins Big Bend Spelling Bee…again!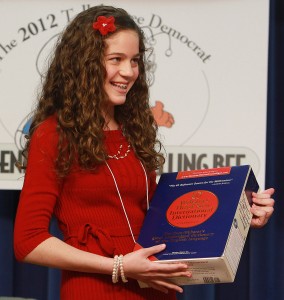 Ann Marie Brown of Hosford won the Tallahassee Democrat Big Bend Regional Spelling Bee Saturday.
Just like she did last year.
Her winning word was "homogeneous." She took the competition in the 20th round.
The 14-year-old is an eighth grade student at W.R. Tolar School in Bristol. She has been competing in spelling bees since she was in fifth grade.
Ann Marie is shown above with one of her prizes, an 11-pound Webster's dictionary. In a few weeks she'll have to put down the dictionary and pick up her luggage when she heads off to the Annual Scripps National Spelling Bee in Washington, D.C. where she'll make her second attempt at bringing home the National Spelling Bee title. The competition will be held the last week of May.
She is the daughter of Doyal and Beth Brown.