Investigation into inmate's accusations inconclusive; Calhoun County booking officer turns in resignation
by Teresa Eubanks, Journal Editor
A booking officer with the Calhoun County Sheriff's Office accused of inappropriate behavior by a female inmate will not be facing charges after a seven week internal investigation resulted in an inconclusive finding.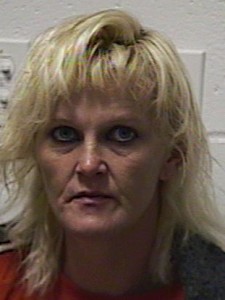 Melissa Ann Terry, 34, was taken to the Calhoun County Jail to be booked in on methamphetamine charges following her Dec. 2 arrest. She remained at the jail for more than seven hours before being transported to the Liberty County Jail's women's dorm, which houses female inmates for Calhoun County.
Three days later, Terry notified Liberty County Jail Correctional Officer Jenny Young that while waiting to be booked in Blountstown, a male officer followed her to the bathroom, watched her urinate, made her pull up her shirt and bra, told her to lower her pants and then asked to touch her. "I was scared and about to have a seizure," she wrote in a note to Young.
The officer, Jason Dunn, 40, denied that anything inappropriate happened. He turned in his resignation Dec. 24. His last day of work was Jan. 7. Dunn started working as a dispatcher with the sheriff's office nearly two years ago. He completed law enforcement training in early December that qualifies him to seek work as a deputy or police officer.
In his resignation letter, he noted that there were no deputy positions available with the Calhoun County Sheriff's Office and indicated that was his reason for leaving. "It is my dream to pursue a career in law enforcement," he wrote to Sheriff David Tatum.

Results of the investigation were released Jan. 19. Both Terry and Dunn were interviewed and several hours of security video were examined. Each took three separate polygraph/voice stress analysis tests with conflicting results. The officer conducting the tests said it appeared that both had been deceitful in some of their answers. He also said he did not know what extent Terry's reported multiple personalities would factor in the outcome of her voice stress analysis. In summary, he said the results from testing both subjects were inconclusive.
Nothing incriminating was found on the security cameras but sheriff's officials were concerned about seven lapses - adding up to a total of 17 minutes - in which Terry and Dunn were out of camera range.
TIMELINE
Terry was brought into the Calhoun County Jail at 3 p.m. on Dec. 2 and spent much of the next seven hours shackled to a five foot long padded bench. She was given a blanket and spent some of that time sleeping, according to the internal report which established a timeline through 10:22 p.m. when Terry was finally transported to Liberty County.
At 5:22 p.m., the video showed Dunn was taking Terry into the medical room which is a shortcut to the officer's restroom used by female inmates during their temporary stay during the booking process. In his statement of events, Dunn said he secured the restroom door when Terry failed to close it all the way. Dunn said he felt she was taking a long time and knocked on the door to check on her. When she emerged from the restroom, she appeared teary-eyed and told Dunn she thought she had just had a seizure. She began sobbing and said she should 'end it all.' When Dunn asked if she was on medication, he reported that she yelled, "No" and suddenly pulled down her pants and pushed up her shirt. He said that he yelled at her to stop and ordered her out of the medical room but she would not leave. She said she wanted to help herself and asked if there was anything she could do, according to Dunn, who said she emphasized "anything." She said she had information about methamphetamine being made. Dunn said he told her he would relay her request to Sgt. Jared Nichols.
After later responding to a fight between inmates, Dunn notified Jail Administrator Ken Futch of the fight as well as Terry's behavior. He was told to write out a report on his interaction with Terry. He did not.
"I specifically directed Officer Dunn to create an event and thoroughly document the incident," according to Futch. "I even went on to explain that in these circumstances the worst thing is to do nothing. Officer Dunn understood my instructions before I left the building."
Futch, who had stopped by the jail between 7 and 8 p.m., questioned why Terry had yet to be booked and taken to Liberty County. Dunn told him he had been busy with other issues and had partially completed the booking. Futch told Dunn to "get it done as soon as possible."
MULTIPLE PERSONALITIES AND MORE ALLEGATIONS
During the evening, Terry told Dunn she had multiple personalities and had been subject to police misconduct in the past, once by police in Michigan, another time in Jackson County and again when a tattoo on her buttocks was photographed when she was taken into custody at the Blountstown Police Department approximately 11 years ago. She later told investigators she had never reported any of the alleged incidents. No evidence was found to support her accusations, according to Major Roman Wood of the Calhoun County Sheriff's Office.
During a review of the jail cameras, investigators noted that at 7:35 p.m., Dunn took Terry through the medical room into the booking area. They walked out into the hallway a short time later and returned to the booking area at 8:38 p.m., where Dunn began fingerprinting Terry. Investigators noted that Terry put her head on Dunn's shoulder and patted him on the back as he fingerprinted her.
The investigation timeline shows that the two were out of camera range for nine minutes beginning at 9:48 p.m. when they once again went into the medical room. A minute later, Dunn was seen opening the booking room door. At 9:58 p.m., both were seen exiting the medical room into the hallway, where they talked for a couple of minutes before Dunn left, then returned and talked with Terry for about eight minutes before leaving the hallway once more. Ten minutes later, Terry was taken to the Liberty County Jail.
When Calhoun County investigators arrived to talk with Terry in Bristol on Dec. 5, they learned she had just tried to hang herself with a pair of shoelaces. "After a few minutes, it was apparent that Terry was fine," according to Wood's report and he and Capt. Michael Bryant spoke with her. She told them that during a restroom visit at the Calhoun County Jail, Dunn asked if she was concealing any contraband, told her to expose her lower half and asked to touch her.
During an interview with Major Wood on Dec. 7, Dunn admitted he used poor judgment by being with the inmate in areas not covered by the jail's video cameras. He called the medical room "a black hole" because it was not monitored by cameras.
The investigative report noted that a notice had been posted on the medical room door for at least a month stating, "Effective immediately. Both doors to the medical office are to remain shut and locked at all times with no exceptions, per Sheriff Tatum."
Had Dunn not resigned, would he have been subject to any disciplinary action? "Possibly," said Wood, who was quick to add: "But it wouldn't have gotten him dismissed." At the most, he said, Dunn probably would have gotten a written reprimand for failing to turn in the report about Terry's behavior that was ordered by his supervisor.
As for the length of time it took to get Terry processed, Wood would only say, "It wouldn't be typical."
"I have the utmost respect for the Calhoun County Sheriff's Office for the way this investigation was handled," Dunn said following his resignation. "Never let it be said this agency doesn't investigate their own. I was treated no different than anyone off the street. After spending the past year working days and going to school at night to graduate from law enforcement academy, this was a horrible allegation to face the very week I was graduating and preparing for my state exam. I just pray Ms. Terry gets the help she needs and this never happens again to any other officer."
A few days later, another officer submitted a report about flirtatious comments Terry made to him. Upon finding out that Deputy Nate Jordan would be driving her to a counseling appointment on Jan. 12, he reported that Terry told him, "Good. I get to ride with the cute sweet one." The deputy said he replied, "I'm neither cute nor am I sweet," to which she responded, "Well, you are to me."
MORE ACCOUNTABILITY
Former Calhoun County Sheriff's Office Transportation Officer Billy Strawn was arrested in 2008 after he was videotaped negotiating for sex with a woman who wanted her husband, who was an inmate in the Calhoun County jail, to receive special treatment. Two female inmates later charged Strawn with raping them after checking them out of the Liberty County Jail to complete a cleanup detail at the civic center in Bristol. Strawn pleaded no contest to two counts of sexual misconduct, surrendered his law enforcement certification and was placed on five years probation.
Have things changed at the sheriff's office since that time? "Absolutely," said Wood. "We have no tolerance for any foolishness." He said the basic procedures haven't changed since they are such a small agency but there is more accountability.
"Every deputy has a digital recorder they all carry in their pockets, their tasers have digital video and audio recorders and patrol vehicles have digital cameras inside and out," he said. "We have taken the extra steps to protect our guys as well as the public."