Blountstown native fulfills a dream and open bed & breakfast in Italy
by Teresa Eubanks, Journal Editor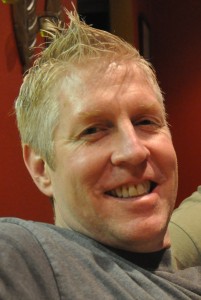 A couple of years ago, Rusty Wyrick said goodbye to his 25 year career as a computer programmer and consultant to fulfill a longtime dream of moving to Italy where he now owns and operates a bed and breakfast in the medieval village of Ghivizzano in Northern Tuscany.
His discovery of the country that would one day become his adopted home came about due to a missed deadline.
Following his 1981 graduation from Blountstown High School, Rusty continued his education at FSU where he applied for the college's study abroad program in 1984. He wanted to go to London but missed the sign-up deadline. After learning a spot was still available in an upcoming four month study trip to Florence, Italy, he took it and found himself absorbed in the art, architecture, history and culture of the country.
When the study program ended, he couldn't bear to leave. "I loved it so much I extended it to eight months," he said.

A Pell Grant covered his costs for the first four months. A passionate letter about his love for the country and desire to stay on resulted in a loan from a relative that made it possible to continue his stay. He said he officially became a "starving student" who learned to stretch his lire in the days before the euro became the standard currency. "Fortunately, 1984 and 1985 was when the dollar was at its strongest," he said. "I don't know how students make it now because the exchange rate is so awful."
After returning to the U.S., he continued his travels and every third year, returned to Italy until he could move there and make it his home. "The Italian people are just wonderful," he said. "They are generous, affectionate and very open with their emotions."
Now, instead of driving to work each day he walks down a cobblestone street to visit small shops to buy cheese, pastries and fresh baked bread to serve the guests at his three-story establishment called Casa La Pace, which means "House of Peace."
FINDING HIS WAY AROUND
Today, he is fluent in Italian but when he first arrived for his study tour, Rusty knew only two words in the language: pizza and spaghetti. He said he did no preparation for his first visit to Italy. "I didn't even know where Florence was on the map," he said of the place he now calls the most beautiful city in the world.
"When I came back, I'd had a year's worth of art history and art appreciation. I was convinced I was going to change my major," he said but when he realized that would entail another year of school he continued in computer science.
"I wanted to finish my degree so I could get out in the world, get over to Italy and get a job."
After his first eight month visit in 1984-85, he returned for six months in 1987 while employed with Ross Perot's consulting company, EDS, and worked in an air conditioning factory 45 minutes outside of Rome. "That's how I knew I really wanted to live in Italy," he said. "I wasn't just being a student and playing, avoiding my responsibilities. I was really working there."
Every Saturday he would catch the bus and go explore the neighborhoods in Rome. "After six months, I knew all of Rome but I was able to learn it in little pieces."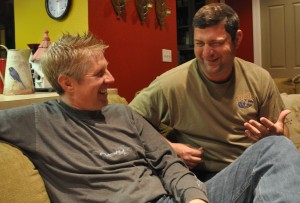 During that stay, he was able to give his brother, Dan Wyrick, a tour when he came to visit him from his military base in Germany. "I stayed there three days and had a great time," Dan said, commenting that he enjoyed having, "A red-headed cracker that could speak fluent Italian as my tour guide."
When they went to the Vatican, Dan noticed a long line of tourists who had a lengthy wait until a tour guide could take the next group through. "It was so nice not to have to wait on a tour guide because Rusty was my tour guide. He knew all the spots to go to, all the places to eat."
DISCOVERING CASA LA PACE
"Over the years, I became a consultant and started moving around the country as a computer programmer and saving all my money I wasn't blowing on travel," Rusty said, having visited England, Greece, Mexico and Japan.
When he reached his mid-40s, he knew the time was right to make a change.
Since 1992, he had been living in Miami with his partner, Pepper - who is of Cuban, Spanish and Chinese ancestry - and whose last name, Pimienta, also translates to "Pepper." Known by all as "Pepper Pepper," his past experience as an artist, event planner, gallery owner, therapist and public relations representative give him unique skills to draw on as he manages their little hotel.
Rusty said he finally reached a crossroads. "I knew I could not continue to travel and have a new car," he said, although he had been saving his money for years. In 2007, he began looking online for property in Italy. They made two trips to Italy and visited numerous sites for sale, including a set of apartments, an old school house and a converted monastery.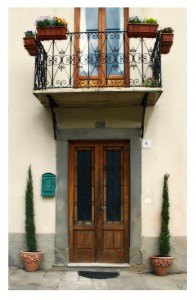 Then an ad on Craig's List caught his eye. He went and had a look at the home he would soon buy.
Built in the 1740s, Rusty likes to point out that Casa La Pace, "Is one of the newer houses in the area." Although some remodeling was needed, the building was available at less than market price and had the added bonus of being in a village with a train station, Rusty explained.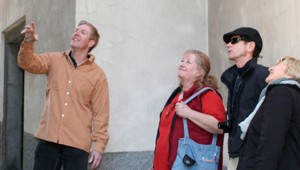 The building was renovated and an extra bedroom was added, bringing the total to five, and bathrooms were installed for each room. In June 2011, they opened for business, taking in more than 60 guests in the first six months. Things have gone "exceedingly well," he said. "I was really surprised for our first season. There were very few days when we didn't have guests."
Travelers who check into Casa La Pace get more than a place to stay. They get advice and encouragement on exploring the area. Both Rusty and Pepper lead tours, conduct art and photography workshops and help guests make the most of their time in Tuscany.
"Our valley is off the beaten path. We like to say it's more like authentic Italy," he said. "When you go to the big cities you just run into more tourists. But when you come where we are, you're going to see the way people really live."
Even this far away from his hometown, he finds something that links the two communities. "Italy's small villages still have the "mom and pop" feel that Blountstown had in the 1970s," he said.
He plans to see how things go for five years but it's hard to image he could leave what he has created and nurtured into a successful business. "I love meeting new people and love to show them around," he said of his new career. "Everyone is different and I love hearing their stories."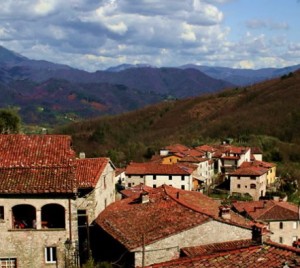 The pair recently returned to the U.S. to attend the International Inn Keepers Convention in Little Rock, AR this week and stopped in to visit family members in Blountstown.
"I left behind a high-paying computer consulting job to do this," Rusty said. "I dreamed about it for so long. Sometimes I have to remind myself it's not a dream."
————-
In the short time Casa La Pace has been listed online at Trip Advisor their ranking has shot up to #13 in Tuscany thanks to glowing recommendations by their guests. The rates are from approximately $90 to $120 a night for a two-person room. Learn more about the bed and breakfast at www.casalapace.com.
Rusty's not the only family member making a big move. His mother, Deanne Wyrick, is relocating from Arizona to Blountstown to be near her three grandchildren - Anthony, 15; Michael, 12 and nine-year-old Karen as well as their parents, Dan and Kelly Wyrick.