Altha native honored for terrorist attack response
by Teresa Eubanks, Journal Editor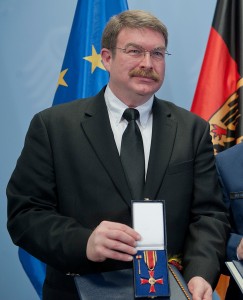 Altha native Lamar Conner, 53, was taking a quick smoke break from his job as a customer service agent at Frankfurt airport in Germany last March when he heard shots and turned to see a man stumbling out of a U.S. Air Force bus with a gun in his hand.
The man was in a hurry but showed no emotion as he shoved the pistol in his backpack, pulled out a survival knife and walked rapidly in Conner's direction.
He was only about five feet away when he walked past Conner, who could not know that the 21-year-old Albanian, later identified as Arid Uka, had just killed two U.S. Airmen, wounded two more and tried to shoot another but was thwarted when his gun jammed.
"When he passed me, I saw he was going into the building. I fell in behind him and warned passersby," said Conner.
Conner followed the suspect for about 70 yards before Uka turned on him, brandishing his knife. Conner, a former U.S. Army Sergeant, grabbed a mop from a nearby cleaning cart to keep some distance between him and the knife. "He must have seen the police running our way because he took off again," Conner said.
Uka headed for the next upper level at the airport which leads to the international gates and Sky Train, which connects Terminals 1 & 2.
"He ran to the first stoop on the stairs about 50 feet away, stopped and pulled the pistol out and tried to dislodge the malfunctioning cartridge," the Altha native explained. "By this time the policeman caught up with me," he said. The police officer went up the stairs. Conner went up the escalator.
When the policeman caught up with Uka at the top of the stairs, he spread his arms out, away from his body and his weapon. "Uka followed with knife in hand," said Conner. The policeman started slowly walking backward and maneuvered Uka into an out-of-the-way corner. A policewoman then stepped in and demanded Uka drop the knife. He complied after she repeated the order and was taken into custody.
Conner called authorities and told them what had just happened as more officers arrived at the scene and ambulance crews responded.
FEDERAL CROSS OF MERIT

Conner and U.S. Air Force Staff Sgt. Trevor Brewer were honored for their heroic actions last week by Germany's government with the presentation of the country's highest civilian honor, the Federal Cross of Merit.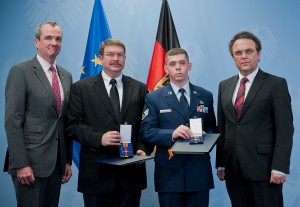 Brewer said he accepted his award on behalf of the two airmen who were killed - Senior Airman Nicholas J. Alden, 25, of South Carolina, and Airman 1st Class Zachary R. Cuddeback, 21, of Virginia.
"It was an important signal that in the first Islamic extremist act in Germany the suspect was stopped in the course of committing his crime by courageous people and arrested," said Germany's Interior Minister Hans-Peter Friedrich.
Recognizing that both men chased Uka until the police could apprehend him, the Minister called their deeds "an example for all of us."
U.S. Ambassador to the Federal Republic of Germany Philip D. Murphy joked that this was the first time he ever heard of anything good "coming from a cigarette," referring to the fact that Conner was at the right place at the right time because he stepped out for a smoke.
Conner's son, Mark, 30, attended Frankfurt honoring his father. "He was angry at me for putting myself in danger but now he is just as proud," said Conner.
"At the time I did not know that he had just murdered two airmen, injured two others and attempted murder on a third," he said. "Were it to happen again, I probably would have "clotheslined" (a wrestling move in which one runs toward an opponent with an arm extended from the side of the body, hitting the opponent in the neck or chest and knocking them over) him and kicked him until he could not get up on his own," he said.
Brewer, a 23-year-old Airman from Gray, TN, was on the bus when Uka boarded. Uka shot and killed an airman standing near the bus and killed the driver as he stepped up into the vehicle. Two others were wounded as he continued shooting. Uka pointed the gun at Brewer's head, said "God is Great" in Arabic and pulled the trigger but the gun jammed. Uka ran off the bus and through the airport. Brewer followed and Conner joined the pursuit.
"He did not stand out in the crowd," Conner said of the shooter. "He looked as if he could have been a young person just starting out in their professional career." Uka worked at the airport post office and was said to be a devout Muslim whose family had lived in Germany for 40 years.
Uka told authorities his attack was spurred on by a You Tube video he watched of American soldiers raping a Muslim woman. That video was later identified as a scene from a 2007 American anti-war movie called "Redacted."
Uka was charged with two counts of murder and three counts of attempted murder. He confessed to the shootings and is awaiting sentencing.
 HELPING THE VICTIMS
After Uka was in custody, Conner returned to the ticket counter where he works. When he learned what had just transpired, the airport manager took him to his office to give him a chance to wind down. "I told him every detail that I could remember in the shortest time possible," Conner said. "He was very supportive and asked if I would like to go home." Conner told him he needed to got to his counter and do his closeout for the day.
Moments after he went to the ticket counter, his manager approached and told him the police wanted to see him.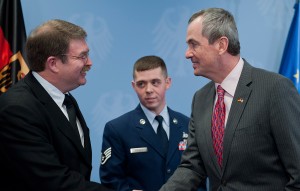 Conner spent the next several hours in a small room at the Federal Police Office with the surviving airmen from the bus, where he acted as a middleman between them and German investigators as they were interviewed.
"All of these young people could have been my children," said Conner. "I thought what it would be like for them in a strange country. You don't speak the language and some madman has just killed or injured several of your comrades." He requested chaplin assistance from the American Consulate to comfort the young airmen.
He and Sgt. Brewer exchanged contact information and they hope to stay in touch.
A PROUD SISTER
Conner, who grew up at Shelton's Corner and still has a home there, said he will display the medal in his apartment next to the flag that covered his father's coffin.
A 1976 graduate of Altha High School, Conner joined the Army at the age of 19 and has spent his adult life in Germany. Conner, his wife, Daniela, their son and their daughter, Janina, 25, live in Germany. Each year, they make month-long trips to visit friends and family in Altha, usually in October.
His sister, Debra Perdue, thinks last week's recognition ceremony was especially timely since it happened during the school's homecoming week.
But she didn't even learn of her brother's part in Uka's capture until two or three months after it happened. She said Lamar was humble about what he did but she recognized that what happened was "really big," she said.
"I'm proud of him. It's a wonderful thing that he did…but he could have just as easily been killed," she said. She admitted she always worries about him being so far away and chides him about his cigarette habit, which he has tried to overcome several times unsuccessfully.
She said she's often warned him, "Those cigarettes will kill you."
But judging by the events of last March, this could be the one time a smoker's urge for a cigarette break may have actually helped save a few lives.
———————————-
Anyone who would like to send Lamar Conner a note, share some memories from his early days in Altha or just congratulate him for his response during last year's attack may reach him at lamar58conner@yahoo.com.