Company planning to build five solar farms in Liberty County
by Teresa Eubanks, Journal Editor
Liberty County's economic future just got a little brighter with the news that a Melbourne-based company plans to build five 200-acre solar farms here.
National Solar Power CEO James Scrivener made the announcement at Monday night's Liberty County Chamber of Commerce annual meeting and banquet in Bristol.
Scrivener said the plan outlined for Liberty County would create 140 construction jobs for a 2 1/2 to three year period and then establish 20 to 25 full time positions.
"We consider ourselves farmers of a sort," he told chamber members. "We're going to build these assets and then farm the sun."
The company would use acres of solar panels to produce power, which would be sold to utility companies that would in turn sell it to their customers. The bottom of the panels would be between 18 and 30 inches off the ground and top would be no higher than seven feet. "If it was behind a hedge, you'd never know it was there," according to Scrivener.
"A 20 megawatt solar farm is about 200 acres of land covered in solar panels. It's very simple. We don't track the sun. There are no moving parts," he said.
"We have existing contracts with Progress Energy and we're searching for locations where we could build these farms within Progress Energy's service areas to satisfy those contracts," he said, explaining the company's interest in Liberty County.
At the beginning of Monday's banquet, the Liberty County Commission called a brief special meeting to pass a resolution demonstrating their support for the project and showing their willingness to provide economic development ad valorem tax exemptions. That tax break would not affect monies going to the school system and would be limited to a maximum of ten years. Commissioners were able to act quickly since the county passed a referendum Aug. 24, 2010 giving them the authority to grant tax exemptions to qualifying applicants. The process will go through the ordinance procedure and public hearings before a final vote will be taken.
Last September, the company made known plans to build a giant 400-acre solar farm in Gadsden County. While supportive of the project,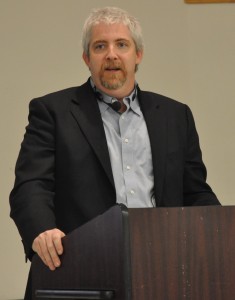 Gadsden County officials have yet to agree to any tax incentives. The county will vote on a tax referendum Jan. 31 to determine if their commissioners can give the company a tax break.
"We anticipate the tax revenue at $300,000 a year per 20 megawatt farm, so it's about $1.5 million in county taxes," Scrivener said of the Liberty County project. That $1.5 million would go to the school system. The county would receive substantially less if commissioners agree to the company's request for an 83% tax break.
"The reason this is appealing to Liberty County is for what it will do for our school system and the young people," said Liberty County Clerk of Court Robert Hill. "The taxes generated for the county commission will be minimal but what the school system gets will be phenomenal."
The company has land in Gadsden County under contract and has already visited some sites in Liberty County.
"We're already looking at some properties and we've starting scoping transmission sources. We feel we can move pretty quickly here and develop assets within the next 12 to 16 months," said Scrivener. "Twelve months might be a little ambitious but I would like to be able to start building by the end of the year in this county."
He said the company would target low index timberland. The five solar farms would cover 1,000 acres, totaling 100 megawatts and represent a $350 million investment.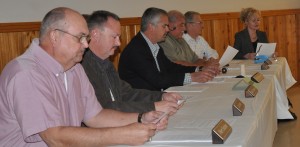 "In light of shrinking education budgets and the economic recession, we feel like we have a pretty good offer from an economic development perspective with what we're doing," Scrivener told chamber members. "We're very enthusiastic about building in Liberty County."