Man charged after hitting wall and resisting arrest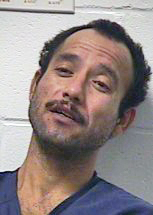 A 34-year-old man found in the midst of a loud argument with a woman at a residence on River Street was taken into custody after refusing to comply with a police officer and resisting arrest.
Octavio Torres Garcia was charged with disorderly intoxication and resisting an officer with violence after a police officer was dispatched to the home at 12:30 a.m. Dec. 24 in response to a report of a disturbance.
Blountstown Police Department Lt. Darryl Temple was met by Garcia and Robin Thomas when he arrived. Thomas said Garcia had been drinking and became upset for no apparent reason. She said he started arguing with her and punched through the sheetrock in the wall.
Temple asked Garcia to leave the room while he talked with Thomas but he refused.
When Temple asked a second time and walked toward Garcia, Garcia said he would hit the officer if he touched him. Garcia became loud, argumentative and disruptive as Temple tried to get him to leave the room. He repeated threats to hit Temple if the officer touched him. Temple's report noted that Garcia "took an aggressive stance and balled up his fists."
Garcia was arrested and attempted to jerk away as he was being handcuffed. After being transported to the police station, Garcia told Temple that he would see him again and would get him back.
Garcia was given a conditional release.