Man arrested after witnesses confirm he knocked down wife and took phone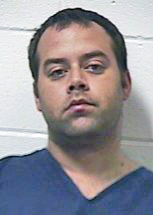 A 29-year-old Blountstown man is charged with domestic battery after his estranged wife said he threw her on the ground and then dragged her into the house by her feet when she tried to get away from him, according to a report from the Calhoun County Sheriff's Office.
Arrested was Frederick Eugene Barfield.
Deputies responded to a report of a disturbance at a home on 22nd Street around 2 p.m. Friday. Barfield was found at the back door of the residence. His wife was later located walking on 21st Street.
The victim gave a sworn statement on video, telling Lt. Adam Terry that she came to the house to see if her son was there. She said that she and Barfield began arguing in the back yard. He threw her down and grabbed her cell phone as she attempted to call the sheriff's office.
She said she went to the front door in an attempt to get her phone back. She said when he came to the door, he knocked her to the ground again, grabbed her feet and started pulling her in the house.
Two men working next door witnessed the first incident and stated they saw a man push a woman down and take her phone.
Barfield was given a conditional release following his arrest.