Altha mechanic wins $1 million with scratch-off lottery ticket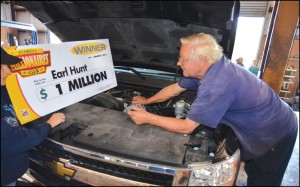 by Teresa Eubanks, Journal Editor
After a morning of working in his repair shop on Main Street in Altha, Earl Hunt heads down the road to the Southern Express convenience store for lunch, where he buys a drink, a pack of crackers and a couple of lottery tickets.
That's his daily routine.
But last Wednesday was anything but routine when he won the biggest jackpot of his life.
"When I first scratched it off I thought it was $100,000," he said, explaining that he failed to scratch all the numbers off the Florida Millionaires Club ticket. He handed it over to the clerk who put it in the machine to verify his winnings but instead of giving a total, the machine directed him to contact the lottery office.
After another look at the ticket, he realized he had won a million dollars.
It wasn't long before he got up with his wife and stepdaughter and the three of them headed to the lottery office in Tallahassee to claim his winnings.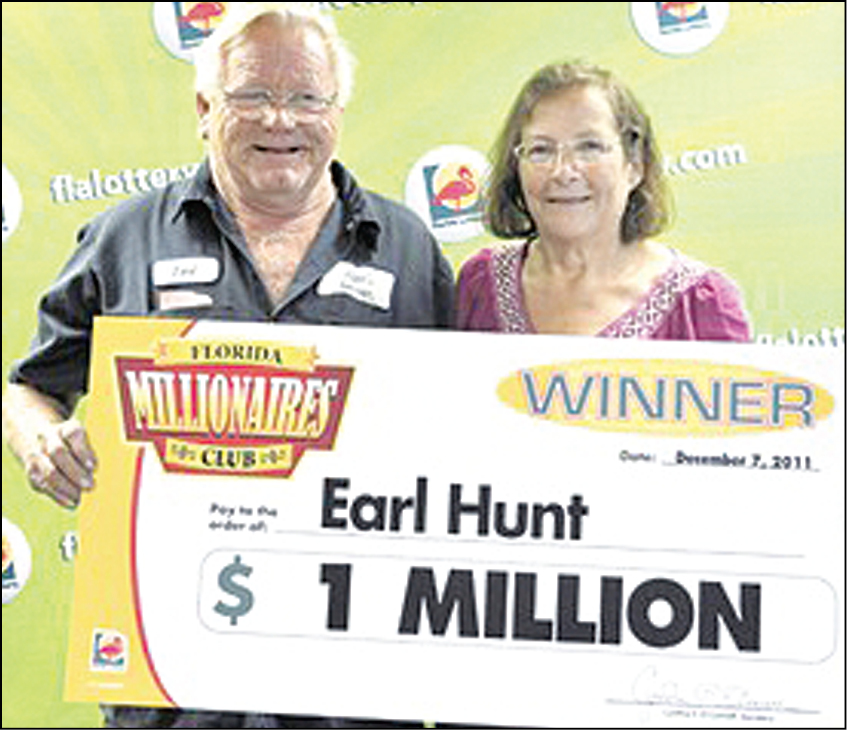 They left in a 2006 Chrysler Dodge Caravan but his stepdaughter had to drive back alone. Earl and his wife, Betty, stopped by a car dealership and picked up something sporty to drive home: A $48,000 black 2012 Camaro with red stripes.
"I called them and told them I just won a million dollars and I wanted a new Camaro. I never owned a new one," Hunt said.
But before picking up his car, he had to stop by the lottery office to turn in his ticket. He wasn't too happy about handing it over without getting any kind of a receipt. "They had to take it behind the counter and scan it. They didn't give me nothing to tell me I had a million dollars," he said. "I didn't get rowdy, but I asked a lot of questions and kept and eye on her the whole time," he said, adding, "I didn't want the numbers to change while the ticket was back there."
And while he did win a million dollars he came away with a little more than half after choosing the one-time lump-sum payment option which left him with $525,000 after taxes. He didn't want to spread out the money over 20 years, noting, "I'm already 63 years old."
Other than having plenty of money in the bank, Hunt doesn't plan to make too many changes in his life.
"I'm going to spend a little of it to try to make some money," he said, explaining that he plans to buy some equipment for his business, Hunt's Garage. He wants to put in a front end alignment machine and may start selling tires.
"I ain't got no intention of retiring right now," he said.
While this certainly was his biggest win, it was far from his only good fortune with games of chance. This past July, he won $48,000 at an internet cafe in Quincy. A few years back, he won an outboard motor in Jasper, Tenn. after spending $100 for a raffle ticket. And through the years, he's had plenty of healthy wins with lottery tickets - sometimes a few dollars, sometimes a few hundred.
On a recent trip to a Biloxi casino, he earmarked $5,000 to gamble with and lost it all. But on the way home, he stopped to get a couple of lottery tickets and won $190.
As much as he enjoys the lottery, he doesn't recommend it to everyone, particularly those living with a tight budget. "I would tell them don't spend your grocery money on a lottery ticket. It ain't a guaranteed thing."
Hunt's longtime friend, Willie D. Wise, said the money won't change him a bit. "He's just as stubborn when he's broke as when he's got money," he said, adding, "I don't care if he's got nine million dollars. He's the same way all the time."