Mary Beth & Babe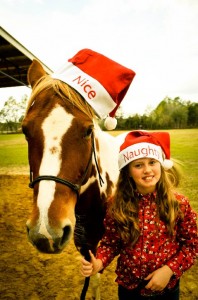 Mary Beth Williams began taking horseback riding lessons about five years ago. After learning the basics, she began training to barrel race. She begged her parents for a horse of her own and they finally found Babe.
Babe is an eight-year- old paint mare and is a perfect fit for Mary Beth. They practice together during the week and compete in barrel racing on the weekends. Mary Beth feeds and waters Babe along with her other three horses, Tater, Thunder and Duchess. She takes care of all the barn duties with some help from her parents and grandfather. There's a special spot in Mary Beth's heart for Babe. They make a great team and continue to work hard to win!
Mary Beth, 11, is a student a Blountstown Middle School. She is the daughter of Michael and Staci Williams of Blountstown. Her grandparents are Tommy and Mary Ann Williams of Blountstown and Hoyle and Mary Joiner of Bristol.
Photo by Karen Joiner Moran