Blountstown falls to Marianna 16-6 Friday night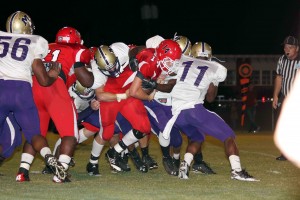 by Michael DeVuyst, contributing writer
Blountstown-The Marianna Bulldogs (3-4) came to Blountstown last Friday night looking to rebound from a 50+ point loss the week before. Blountstown was looking to extend their two game win streak. Blountstown did everything right statistically but fell short on the scoreboard, 16-6. Blountstown ran more plays, had more rushing yards, more passing yards and more total yards. However, they could not overcome poor field position, penalties (9-90) and 3rd and 4th down conversions (1/15).
Blountstown started off the night with an onside kick that was recovered by Bobby Andrews on Marianna's 49 yard line. The first play from scrimmage QB Hunter Jordan found Marquel Thomas open 49 yards down the field for the touchdown. Corin Peterson missed the extra point wide left for the 6-0 lead just 11 seconds into the game. After trading possessions, the Bulldogs found themselves in great shape when they recovered a Tiger fumble caused by a mishandled snap from center at the Tiger 21 yard line. The Tiger defense stiffened and forced Marianna to attempt a 21 yard field goal. Michael Mader's kick was wide left and the score remained 6-0. Late in the first half, the Tigers offense failed to get a yard on three consecutive plays and turned the ball over on downs at their own 33 yard line with 2:32 left in the half. Marianna took advantage of the short field and Christopher Bowers ran 5 of the next 6 plays and found the end zone on a 5 yard run with :42 seconds left in the half. Michael Mader split the uprights to give the Bulldogs the 7-6 halftime lead.
The Tigers took the 2nd half kickoff and promptly found themselves in Bulldog territory. However, a 4th down conversion attempt failed and the Tigers had to turn the ball over on the Marianna 15 yard line. The Tigers started the 4th quarter with a drive on their own 4 yard line. Three running plays for losses resulted in a safety for Marianna when Christopher Godwin tackled Jawon Mosley in the end zone. The safety extended Marianna's lead to 9-6 with 11:06 left in the game. After two more failed 4th down conversions, Marianna had a drive start on the Tiger 18 yard line late in the fourth quarter. One play later, Christopher Bowers ripped off a run to the left side of the line for an 18 yard TD run. Mader added the extra point kick and Marianna put the final nail in the coffin at 16-6 with 1:17 left in the game.
Leading rusher for the Tigers was Jawon Mosley with 45 yards on 12 carries. QB Hunter Jordan was 4-14 with 64 yards and 1 TD. Javakiel Brigham and Anthony Williams led the defense with 9 tackles each. The Tigers fall to 2-4 on the season with a huge district game looming with Liberty County this Friday night in Blountstown.