Project Connect keeps kids from losing touch with their goals after completing treatment programs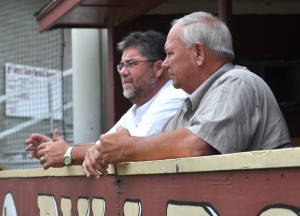 by Teresa Eubanks, Journal Editor
If there's one thing Donnie Read wants to avoid at his treatment centers for at-risk youth, it's repeat business.
The founder and CEO of Twin Oaks Juvenile Development Inc. has been working with troubled kids from around the state for nearly 13 years. He started in 1998 with 32 kids and 30 employees at Liberty Wilderness Crossroads Camp in the Apalachicola National Forest. Today, Twin Oaks operates eight different programs for troubled kids and has 585 employees.
But the very thing that often leads them into trouble becomes a problem again after his clients complete their six-to-nine month stint at one of the camps or programs. "Most of these youth don't have the support at home that they need to be successful," explains Read.
That point hit home when one of his early clients reached out after completing vocational training to become a welder. With some help from Twin Oaks, the teen got a job at a fabricating plant in Gadsden County.
"He was doing well," says Read. "Then one night I got a call from him."
The young man said he was going to leave his job. "He told me he could make the same amount of money in one night with three drug deals that he could in a month at work," according to Read.
"Don't quit, I'm on my way," Read replied during the 2:30 a.m. conversation as he got up, got his keys and left Bristol to drive to Gadsden County. He bought breakfast at a convenience store and took the troubled teen to a place he felt they could talk - a ballfield in Quincy.
Read, a former football and baseball coach at Liberty County High School, knew being at Corry Field would mean something to the boy. "To me, a baseball field is a comforting place. A place to play and leave your cares behind," he explains, adding: "I knew he had played some ball on that field."
The two sat in the dugout and talked as the sun came up.
"We talked about how obstacles are put in our way and how we can overcome them," according to Read. "We talked about how earning money the right way in itself is an accomplishment. I convinced him to go back out there."
Read realized, the kids that complete one of his programs need more support when they return home. That morning, Project Connect was born. Read started the all-volunteer program eight years ago to provide ongoing support for kids after they complete their court-ordered rehabilitation.
He says that since its inception, Project Connect has had tremendous success with a recidivism rate as low as nine percent, compared to the state average of approximately 40%. Read credits Twin Oaks' Chief Operating Officer Charlie Chervanik and Jeff McSpaddin, director of grants and special projects, for improving the process of transitioning youth back to their home communities.
"Project Connect surrounds the kids with a group of mentors from different areas in the community," explains Thornton Davis, assistant program director at Twin Oaks Vocational Academy in Greenville. "It's been a learning process…we've developed it and tweaked it in an effort to improve it." The heart of the project is an all-volunteer Community Action Team that meets regularly with a youth, offering guidance, encouragement and sometimes just a shoulder to lean on.
"We're trying to capture, report and keep up with the kids' progression after he leaves us," says Davis. "People in our business are shutting doors when the kids leave and saying 'Good Luck'. We're trying to keep them on the right track."
Davis believes it's time to beef up the program by getting law enforcement involved. They already have the support of Liberty County Sheriff Donnie Conyers, who has endorsed the program and agreed to have a staff member be an active member of the Community Action Team. "As sheriff, I understand the importance of having strong positive role models that interact with our youth," Conyers stated in a letter of support for the program, in which he acknowledged that once kids move out of the juvenile justice system, they return to the same set of circumstances that may have led them there.
In August, Davis will speak at the Florida Sheriffs' Association annual meeting about the program and hopes the organization will endorse Project Connect. That same month, one of the kids from a Twin Oaks treatment program will be returning to Liberty County, according to Read, who says, "I think it's real timely that we're getting this started with Sheriff Conyers now."
Some of the help kids require is very basic, explains Read. "There's so many things that we take for granted that's the next step to growing up, like getting a driver's license and getting enrolled in college. A lot of these kids have no idea what to do and don't have the parental support they need."
Read points out that Project Connect won't just help the kids involved, it will be good for the whole community as it helps youths become law-abiding, taxpaying citizens. "The more mentors we can surround them with to enable them to do positive things, the better chance they will have to be successful," he adds.
Anyone interested in being a part of a Community Action Team for a returning client in the juvenile justice system can contact Jeff McSpaddin at the Twin Oaks Juvenile Development offices in Bristol at 643-1090. Volunteers are asked to make a six-month commitment but it is hoped they will form a lifelong friendship with their client, playing an ongoing role in their growth and development.